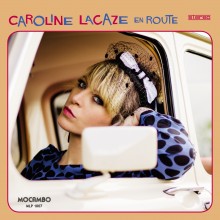 release date:
April 21, 2013
share:
CAROLINE LACAZE – EN ROUTE
1. SOULTEMPO
2. L'ETRANGE
3. TOUJOURS LUI
4. LAISSE TOMBER
5. JE RESTE
6. ROAD STOP
7. EN ROUTE MADAME
8. HARLEY DAVIDSON
9. ICI
10. MINUTES D'INSOUCIANCE
11. OU TU M'EMMENES
12. VOYAGE THEME
'En Route' is the stunning debut album of young soulful French chanteuse Caroline Lacaze, an eclectic mixture of nonchalant 60s beat, mysterious psych-pop, raucous funk and longing French chanson, all held together by the energetic raw soul sound and the skillful 'mise-en-scene' of the Mighty Mocambos under their moniker "Mocambo Electric Orchestra".