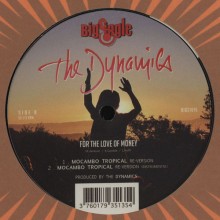 release date:
March 19, 2012
share:
THE DYNAMICS – FOR THE LOVE OF MONEY (REMIXES) 12″ SINGLE
Big Single (France) :: BIGS1015
For The Love Of Money (Mocambo Tropical Re-Version)
This maxi single features a Mocambo remix of the Dynamics' cover of the well-known O'Jays' tune. Recorded live in true tropical style with steel pans (American: steel drums), the funk classic gets a complete Caribbean make-over. The result is a sinister piece of steel funk calypso that would not sound out of place in a dancehall selection. It's Mocambo's first appearance on a 12" single and their first "remix" for another artist.