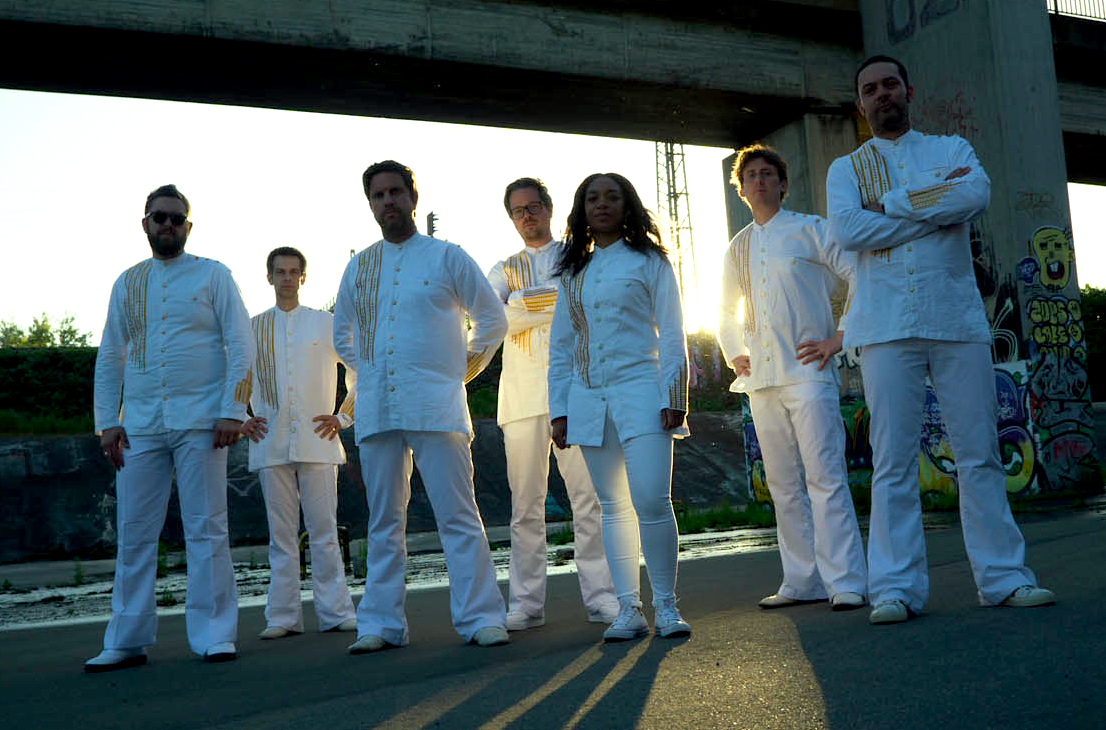 The Mighty Mocambos and their many incarnations have released dozens of 45s and several albums on their own imprint Mocambo Records and other labels  – Kay Dee, Truth & Soul, Big Crown, Tramp, Légère, WahWah45s and Favorite Recordings, to name a few.
They have collaborated with musical legends such as Afrika Bambaataa, Lee Fields, Ice-T, Charlie Funk, Peter Thomas or Kenny Dope, put new talent like Gizelle Smith and Caroline Lacaze on the map, brought Caribbean steel drums to funk clubs with their alter ego Bacao Rhythm & Steel Band, and have toured through all civilized parts of the continent and beyond for the better part of the last years.
Their unique style, trademark sound and skilful songwriting is loved by peers, fans and critics alike – and that's what's makes them shine among an armada of retro-copycats, overposlished plastic soul acts and uninspired revivalists.
The Mighty Mocambos deliver their brand of funk with blazing horns, soulful guitars, driving drums and basslines combined with an extra bit of quirkiness. When not producing records for one of their many incarnations and collaborations, the band is touring steadily. Whoever witnessed a concert will tell you about the musicality, passion, energy, humour and joy that the band loves to bring to the people.
Background
What started out years ago as a take on "deep funk" and its associated vinyl culture has completely grown into its own oeuvre d'art. With the launch of their production studio and record label in 2006, things started to gain momentum. Apart from self-releasing the group's own recordings, Mocambo Records became a household name by putting out highly collectable vinyl 45s by today's best funk outfits as well as unearthing lost library funk treasures.
The Mighty Mocambos however did not restrict themselves solely to their own label. Their interpretation of the Furious Five classic "The Message", released under a pseudonym on an obscure phantasy label without proper distribution, got picked up and remixed by Grammy-nominated producer legend Kenny Dope (Masters at Work, Bucketheads).
Their first single with UK funk singer Gizelle Smith, "Working Woman", became an overnight smash and a prime-time club favourite of funk & soul DJs worldwide. Initially released on the Finnish private press imprint Old Capital, it got the remix treatment by Kenny Dope and a re-release on Kay Dee Records as well.
After earning their credits through vinyl 45s, the band stepped up their game with the full- length "This Is Gizelle Smith & the Mighty Mocambos" in 2009. The album received rave reviews, got lots of airplay – and sold a bunch of physical copies too. Its success led to an extensive tour throughout Europe with club dates from Marseille to Oslo, performances at massive festivals such as the Printemps de Bourges in France and live radio appearances at respected FMs such as the BBC and Radio Nova.
With the following album "The Future Is Here" (2011), the band itself moved further into the spotlight and explored new sounds with features by hiphop legends Afrika Bambaataa and Charlie Funk, French singer Caroline Lacaze and German rare groove queen Su Kramer, while manifesting its unique raw funk sound and refining its unmistakable instrumental style that had long gained international reputation. The album was toured extensively, including a legendary performance with Afrika Bambaataa at Hamburg's Reeperbahn Festival (covered by ARTE TV), support gigs for Lee Fields and headline shows at renowned venues such as Amsterdam's Paradiso, Islington Assembly Hall in London, Paris' Bellevilloise, Tempo Club in Madrid, or at home at Hamburg's Mojo Club.
After producing the critically acclaimed debut album "En Route" (2013) of French soul singer Caroline Lacaze, where they adapted their sound to deliver a stunning mix of French Beat, Soul & Psychedelic Rock, the band went on to record a full length under their moniker Bacao Rhythm & Steel Band. Their interpretation of 50 Cent's P.IM.P. had long become a cult classic and was often mistaken for the original sample. The group's approach in stretching the boundaries of funk by adding Caribbean steel pans caught the interest of Brooklyn's finest label Big Crown – who signed the band and released their albums "55" and "The Serpent's Mouth", an explosive mix of funk and hip hop cover versions as well as original compositions that showcase the band's singularity in today's funk circuit.
The Mighty Mocambos' album "Showdown" set another cornerstone in their prolific career as a globally active instrumental funk outfit. While maintaining their organic approach of recording real musicians live on tape, the group refined their trademark sound with a dramatic edge, a hard hitting production and ventures into less obvious musical territories, featuring a diverse list of special guests ranging from German film composer icon Peter Thomas to hiphop pioneer Afrika Bambaataa.
The album took the band once more on the road, including legendary performances at clubs like Paris' Bataclan, London's 100 Club  and Erinevate Tubade Klubi in Tallinn/Estonia.
With added member Nichola Richards on vocals and percussions and their third album "2066" in the bags, the band continued to grace turntables and stages around the globe. Just before the pandemic hit, the group started recording live performances on a portable 8-track tape machine. While most bands shifted their stage to the studio in 2020, producing an abundance of isolated lockdown-inspired material, the Mighty Mocambos took the mobile version of their recording studio on the road and documented their way through the pandemic as a live band on the full-length 'Scénarios' – an album with songs specifically written and arranged for live recordings in unusual settings during an unprecedented time.