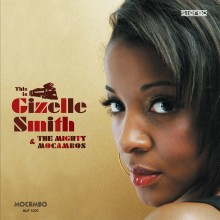 release date:
August 23, 2010
share:
THIS IS GIZELLE SMITH & THE MIGHTY MOCAMBOS
1. GONNA GET YOU
2. WORKING WOMAN
3. COFFEE HIGH
4. EVERYTHING HOLDS BLAME
5. SNAKE CHARMER
6. FREE VIBES (instrumental)
7. LOVE ALARM
8. OUT OF FASHION
9. NOTHING FOR NOTHING
10. MAGIC TIME MACHINE
11. THE TIME IS RIGHT FOR LOVE
12. HOLD FAST
The smashing longplayer from Gizelle Smith & The Mighty Mocambos. Features many classic singles from the collabo, such as WORKING WOMAN, SNAKE CHARMER, HOLD FAST and THE TIME IS RIGHT FOR LOVE. Initially a mystery fun project, GS&TMMs released a 45 on the Finnish private press label Old Capital. Producer legend and Grammy nominee Kenny Dope then picked up and remixed the song WORKING WOMAN for his own label Kay Dee Records. The album "This Is Gizelle Smith & the Mighty Mocambos" received rave reviews, got lots of airplay, and sold a bunch of physical copies too. Its success led to an extensive tour throughout Europe with club dates from Marseille to Oslo, massive festivals such as the Printemps de Bourges in France and live radio appearances at respected FMs such as the BBC and Radio Nova.