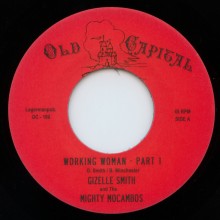 release date:
June 02, 2008
share:
Gizelle Smith & the Mighty Mocambos – Working Woman b/w Working Part 2 (Instrumental)
1. WORKING WOMAN
2. WORKING Part2 (Instrumental)
The thrilling 45 debut from Gizelle Smith with the Mighty Mocambos. Recorded in Hamburg, mixed in London, pressed in Holland, released in Finland and later remixed in New York by Kenny Dope. A worldwide prime-time club favourite of soul/funk DJs. Heavy heavy sister funk!