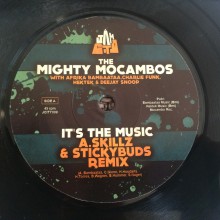 release date:
August 07, 2015
share:
IT'S THE MUSIC (A-SKILLZ + STICKYBUDS REMIX)
Click on the cloud symbol to listen!
1. IT'S THE MUSIC (A-Skillz & Stickybuds Remix)
2. IT'S THE MUSIC (Original Version)
Exclusive vinyl edition of this remix, with original version on the flipside pressed from original Mocambo Records stamper. A.Skillz and Stickybuds team up for the first time on this version of Its The Music, producing a club twist on a Mocambo funk classic.