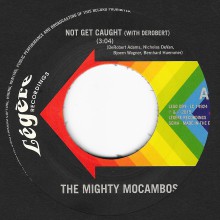 release date:
July 17, 2015
share:
MIGHTY MOCAMBOS – NOT GET CAUGHT
Click on the cloud symbol to listen!
Limited edition 45 release on Légère Recordings. 'Not Get Caught' is a standout tune from the longplayer SHOWDOWN featuring the vocals of the great DeRobert (from GED Soul, Nashville). Not Get Caught tells the story about committing a crime on a low down funk beat.The instrumental B-side 'Never Get Caught' is exclusively available on this format.