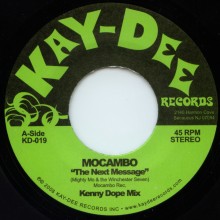 release date:
January 05, 2009
share:
MOCAMBO – THE NEXT MESSAGE (Kenny Dope Mix) b/w Version
1. THE NEXT MESSAGE (KENNY DOPE MIX)
2. THE NEXT MESSAGE (KENNY DOPE VERSION)
The raw old school funk sound of the Mighty Mocambos has caught the attention of many DJs and funk enthusiasts worldwide. The group's interpretation of the Furious Five's "The Message" - released under the pseudonym "Mighty Mo & the Winchester Seven" on the Finnish phantasy label "Peace Street" sold extremely well without any promotion and proper distribution. Kenny Dope got hold of the scarce 45 and decided to do some fresh remixes/re-edits of the track which were released on on his his own imprint Kay-Dee Records.