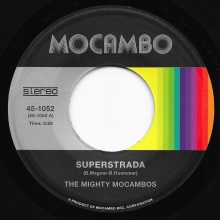 release date:
March 27, 2020
share:
SUPERSTRADA
SUPERSTRADA (45 extended)
CONCRETE STARDUST (45 extended)
Funk 45 champions The Mighty Mocambos deliver another colourful record in their favorite format. Both break-heavy psychedelic soul score theme Superstrada and battle proven b-boy jam Concrete Stardust are from the much celebrated album "2066". By popular demand, here they come in exclusive DJ-friendly uncut/extended versions. A hard-hitting double-sider set to be a resident in your 45 case.