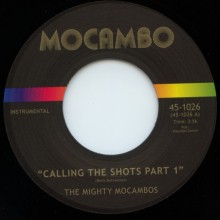 release date:
October 04, 2010
share:
Calling The Shots Part 1 b/w Calling The Shots Part 2
1. CALLING THE SHOTS Part 1
2. CALLING THE SHOTS Part 2
A dancefloor bomb from the Mighty Mocambos! Opening with a killer bongo/cowbell drumbreak and turning into a frantic & brass-heavy anthem, this 45 leaves no doubt about who is "calling the shots" in the game. The flip side features a DJ-friendly 4min mix of the drums and percussions only.