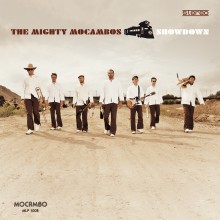 release date:
March 27, 2015
share:
SHOWDOWN
1. ROAD TO EARTH feat. Peter Thomas
2. IT'S THE MUSIC feat. Afrika Bambaata, Charlie Funk, Hektek & Deejay Snoop
3. IN THE DARK feat. Nichola Richards
4. THE SPELL OF RA-ORKON
5. POLITICAL POWER feat. Afrika Bambaataa, Charlie Funk & Donald D
6. DRIFTING STARS
7. NOT GET CAUGHT feat. DeRobert
8. LOCKED AND LOADED
9. CATFIGHT
10. HOT STUFF feat. Afrika Bambaataa, Charlie Funk & Deejay Snoop
11. THE SHOWDOWN
The Mighty Mocambos' album "Showdown" (2015) sets yet another cornerstone in their prolific career as a globally active instrumental funk outfit. While maintaining their organic approach of recording real musicians live on tape, the group has refined their trademark sound with a dramatic edge, a hard hitting production and ventures into less obvious musical territories, with a diverse list of special guests ranging from German film composer icon Peter Thomas to hiphop pioneer Afrika Bambaataa.