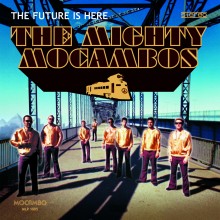 release date:
October 04, 2011
share:
THE MIGHTY MOCAMBOS – THE FUTURE IS HERE
1. CALLING THE SHOTS
2. ZULU WALK feat. AFRIKA BAMBAATAA, CHARLIE FUNK & KING KAMONZI
3. THE SUN SHINES TONIGHT feat. SU KRAMER
4. STRUGGLE & TRIUMPH
5. TRANSCENDENTAL EXPRESS
6. FRENCH VANILLA SKIES
7. PHYSIQUE feat. CAROLINE LACAZE
8. BATTLE feat. AFRIKA BAMBAATAA, CHARLIE FUNK & KING KAMONZI
9. PEACE STREET
10. A BRIGHTER DARKNESS
11. PARANORMALS THEME
12. THE NEXT MESSAGE
After almost twenty 45s under various pseudonyms, their thrilling and hugely successful debut album with London based singer Gizelle Smith and a tour with concerts throughout Europe, Germany's most prolific deep funk formation is ready to step further into the spotlight on their second longplayer. The aptly titled THE FUTURE IS HERE sees the group explore new territories with features by hiphop legends Afrika Bambaataa and Charlie Funk, fresh French singer Caroline Lacaze and German rare groove queen Su Kramer, while manifesting their unique raw funk sound and refining their unmistakable instrumental style that has long gained international reputation. The vinyl release comes in heavy cardboard sleeve, free of barcodes and weblinks and includes a coupon for free full quality AIFF download of the entire album.