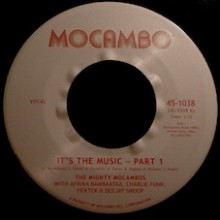 release date:
May 12, 2014
share:
IT'S THE MUSIC with AFRIKA BAMBAATAA, CHARLIE FUNK, HEKTEK & DEEJYA SNOOP
IT'S THE MUSIC Part 1
IT'S THE MUSIC Part 2
The stunning collabo between the Mighty Mocambos and hiphop-legend Afrika Bambaataa goes into the 2nd round. For the joy of all b-girls and b-boys, the Godfather of Hip-Hop and today's best heavy funk band present their banging new anthem. 'It's The Music' brings the sound of early hiphop livebands into present time, with the Mocambos showcasing their skills on a discofied breakdance beat, only topped by the vocal authorities of the Amen-Ra Of Universal Hip-Hop Culture and fellow Zulu Nation members Charlie Funk (aka Afrika Islam), Hektek and Deejay Snoop, the latter providing a trademark talkbox feature. The flip side contains an exclusive instrumental ready to smash dancefloors on its own.