Mighty Mocambos collaborate with ICE-T & CHARLIE FUNK on new 45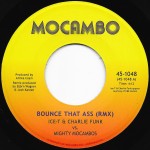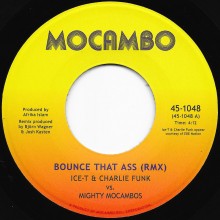 Bounce That Ass (RMX) b/w Instrumental

A collabo you couldn't make up. Ice-T & Charlie Funk team up with Hamburg's Mighty Mocambos for a funked up version of their single "Bounce That Ass", blending old school west coast vibes with raw funk recorded live to tape, guaranteed to get every dancefloor busy.

Ice-T & Afrika Islam aka Charlie Funk wrote history together. They made countless platinum LPs, won grammys and oscars and shaped rap music as we know it today with albums like "Rhyme Pays" and "Power". Here they reunite for the fun(k) of it, celebrating the motion of hips like only they could and the Mighty Mocambos once again leave no doubt about their status as absolute funk heavyweights and 45 champions.
Exclusive release on vinyl.